Read in Spanish | Read in Vietnamese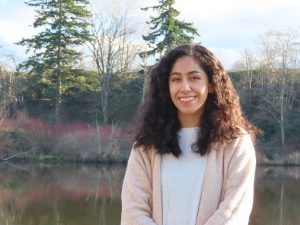 Cynthia Cruz-Bernardino graduates from Western Washington University in spring 2021. She wants to support high school and college students in envisioning and pursuing their own success. 
Who I am
My name is Cynthia Cruz-Bernardino. I am excited to be graduating this Spring 2021 from Western Washington University (WWU) with a Bachelor of Arts in Human Services and a minor in Education and Social Justice. For the past year I have been interning with Futures Northwest (FNW) in supporting first-generation students towards postsecondary education.
Navigating my first year
I graduated from Health Science and Human Services High School located in White Center, and the Achievers program with College Success Foundation, which helped me with understanding how to apply for financial aid, applying for colleges, and general college readiness workshops. As I began my post-high school journey, my college adviser had me sign up with a Navigator who was a current college student at WWU to mentor me during my first year. As a first-generation student, I struggled immensely navigating through college since I had no one in my family who previously went through the same system. I remember not knowing what classes I should be taking my first year and struggled with finding classes and the registration process. I had a hard time finding resources that could support me financially, and locating a community where I could fit in. I had a lot of doubts if I could make it in college and considered withdrawing but having my Navigator there to support me and seeing her determination to find me the help I needed inspired me. Without her mentorship, I would have not continued with my educational journey.
The culture shock of college
Throughout my K-12 schooling I had always been around predominantly BIPOC (Black, Indigenous, and People of Color) students, with less than a handful of white students in my grade. When coming to the WWU campus I remember walking around and feeling all the stares from others. At first, I didn't think much about the amount of white folk that were around me, but it became very prevalent in my first week as I noticed that I was the only person of color in my classes. I was incredibly uncomfortable to engage in class and felt very isolated as I had never been in an environment that was predominantly white. I navigated through white spaces by utilizing the connections and friendships I had with other BIPOC individuals and talking to them about how I felt in those spaces.
My time with Futures Northwest
I started interning with FNW in Spring 2020 amidst the COVID-19 pandemic. Originally, I was going to work with Native students at Ferndale High School. However, due to the pandemic, my position and the organization had to shift gears as schools were still figuring out how they were going to move everything to a remote environment. During my time with FNW I developed both a podcast and a program aimed at providing relevant resources and support to first-generation students in their transition into higher education.
When creating the First-Gen Fridays podcast I wanted to include relevant issues and real-life stories from current first-generation students. Many of the resources and supports that I have received in my time at university are not well advertised and often it felt like I had to really advocate for myself to just get help. In the podcast, I have covered many topics including: What to do Before Entering Freshman Year, Work study, Mental Health, Food Benefits, and most recently The Ups and Downs to Graduating. By including real life stories and helpful tips, my hope is that other first-generation students are able to connect to our stories and feel that they are not alone in the confusing journey that is higher education.
Many organizations focus on getting high school students the help they need in getting into college, but that is where the support ends. Students are left to figure out college on their own which can be an incredibly stressful time if you are first-generation and do not have anyone to help you through the process. Now with a pandemic added to the mix, I could not imagine how difficult the first year was going to be for incoming first-generation students who had to experience college through a virtual setting. This is where the idea of creating a mentor program blossomed. I took influence from my mentor and created the First-Gen Navigators program, aimed at supporting BIPOC first-generation students in their transition into higher education to ensure community, retention, and confidence. Currently, the program is serving over 20 students through academic and community building workshops like financial aid, scholarship week, how to register for classes, resume and job readiness, navigating white spaces, virtual potluck, and many more fun activities.
Advice
My advice for other first-generation students is to research if your program or school has a first-year mentoring program. My mentor was a huge influence on my success and confidence in navigating college and gave great insight into my university since she was also a current college student. If I could go back, I wish I had someone to tell me about things you should know before entering college like required core classes and how to register for classes. These are all things that were helpful to learn about from a current student and that I have talked about on my podcast.
I have learned so much through my internship and the lasting connections I have made with my students. I am currently struggling with job searching as there are not many positions that are opened due to the pandemic, but I remain hopeful that I can continue supporting students in reaching their educational dreams.