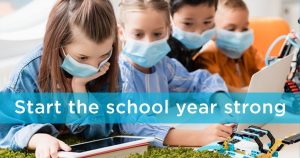 Despite the hardships of the pandemic, families remain committed to supporting students' hopes and dreams, including that they will attend a two- or four-year college on the path to a family-wage career. Below, we highlight three key resources that can help families support their students and start the school year strong!
State assessments and how to use the results
Between Sept. 27 and Nov. 10, state assessments are happening in math, English, and science. These assessments normally happen in the spring but were postponed because of the pandemic. Fall tests will reflect the grades students were in during the 2020-21 school year.
Fall English and math assessments will be administered in grades 4–9 and 11 for the grades 3–8 and 10 tests.
The fall science assessment will be administered in grades 6, 9, and 12 for the grades 5, 8, and 11 tests.
Learn more about the timing of this year's state assessments from the Office of Superintendent of Public Instruction.
Assessments will be shorter than usual this year to accommodate the unique circumstances we are in while still ensuring results are maximally useful. English, math, and sciences assessments this fall are all designed to be completed in a single online session, though students can take the time they need. Talk with your student's teacher about when assessments will be happening in your district and you can support your student's success.
Why are assessments important?
Assessments are one way, along with other measures, to know how students are doing in these subjects. They also provide important information to understand how districts and the state are doing in meeting all students' learning needs. You can use the results to better understand your child's strengths and areas for growth, and to engage with your child's teacher(s) about how to support learning at home. Learn more in this fact sheet.
Information about graduation pathway requirements
Students who are 11th graders in the 2021–22 school year (who would have tested as 10th graders in the spring of 2021) will be taking the high school English language arts and math assessments in fall 2021.
The fall 2021 tests in both math and English language arts can be used to meet a graduation pathway requirement if that corresponds to the student's High School and Beyond Plan.
Students in the Class of 2022, who did not have an opportunity to take ELA or math assessments in spring 2020, may choose to test during the 2021–22 school year to meet a graduation pathway requirement if it aligns with their High School and Beyond Plan.
Understand what students are learning in English and math + get tips to engage with teachers
Using these Family Guides (available in English and Spanish), you can help support your student's growth and success by understanding what K-12 students are learning in each grade in math and literacy.
Developed by education experts with feedback from Washington families, the guides include the topics that students are learning about, everyday learning activities, tips for talking with teachers, and more. Middle school and high school guides have resources to help students connect classroom learning to future careers. In addition, the Learning Heroes Parent-Teacher Planning Tool can help you partner with your student's teacher.
Engage in the High School and Beyond Planning process
Another way to start the school year strong is to engage in your middle and high school student's High School and Beyond Planning process, a graduation requirement that supports students in exploring their interests, planning high school coursework, and more. The High School and Beyond Plan helps students explore key questions like: Who am I? What can I become? How do I get there?
You can also use your student's High School and Beyond Plan to engage with teachers and/or school counselors. Questions might include: What can I do to support my student's goals? What should our family do now to prepare for our student's education or training after high school? Check out our fact sheet (in English and Spanish) for more information about graduation requirements, questions to ask your student, financial aid resources, and more.