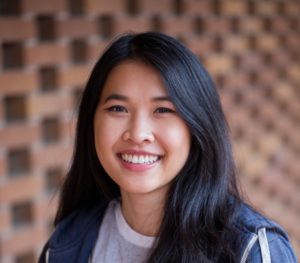 My name is Sarah Ounniyom. I am an intern with Futures Northwest (FNW), a nonprofit organization in Bellingham focused on highlighting postsecondary education and training programs to first-generation students and families, and a full-time student finishing my Bachelor of Arts in Human Services at Western Washington University and Everett Community College. I expect to graduate in Winter 2021.
Goal is to serve community
After I graduate, I hope to work in the education sector serving marginalized communities such as people of different races and ethnicities. I want to use my knowledge and experience in human services to support inclusion and diversity while addressing systemic barriers that might prevent students and families from obtaining their academic goals.
Neither of my parents got an opportunity to obtain a college education because they needed to work and support me and my sister. As a first-generation college student, I believe college is critical for my success.
I was fortunate to qualify for the College Bound Scholarship, which is state financial aid that eligible low-income middle school students sign-up for to cover college tuition. Without financial aid and the College Bound Scholarship, I couldn't afford to pay for college tuition.
My plans are to work for a few years and save up enough money for graduate school to pursue a master's in social work. I would like to practice social work through educationally focused service experiences in community settings such as a career in school and career counseling or community outreach.
The pandemic hits
During the early stages of the coronavirus pandemic, I was working part-time on campus in a custodial position while taking several courses for the Spring quarter. I thought life would continue to be normal, but the pandemic affected almost every aspect of my life.
I noticed changes in my work life first. Many of the custodial staff were afraid to work in April because there was a potential risk of getting the coronavirus if we worked in a group, so we worked in pairs to sanitize and clean several Western buildings.
Then the pandemic affected my home life. I was living with roommates in Bellingham, Washington while my parents helped pay my rent. Facing reduced employment hours because of the coronavirus, it became difficult for my family to help pay for my living expenses.
I thought to myself, "How could I afford to live in Bellingham?" Weeks into the pandemic, I decided to quit my job and break my apartment lease. I moved back home to Snohomish County, where I switched to an off-campus Human Services program at Everett Community College.
Since I moved on a short notice, I couldn't say goodbye to my close friends and colleagues from Western. The pandemic makes it difficult to determine when I will see them again. My friends and peers have been the most supportive group at school because I turn to them for advice, help with school work, and socializing. I really miss seeing their faces.
Internship seeks to improve financial aid application rate
Despite these obstacles, my academics and internship have been helpful in keeping my mind off the stressful situation and providing opportunities to pursue my education and career goals.
My role as a Futures Northwest (FNW) research intern is to conduct qualitative research to understand barriers that prevent students from completing the federal student aid (FAFSA) application, then analyze the data to improve FAFSA completion rates in Whatcom and Skagit Counties.
I collaborate with the Washington College Access Network (WCAN) to send out surveys and develop pre-intervention plans. Additionally, I work closely with the FNW team on several projects to adapt to virtual support for first-generation students.
The organization works to engage and connect with students in creative ways through YouTube, blogs, and other social media platforms. The virtual support provides financial aid and College Bound Scholarship information to students, such as important deadlines and how to complete the application.
Through these efforts, we hope to increase the completion rates of financial aid and scholarships, especially since the novel coronavirus might make it more difficult for students and families to finish their application.
Currently, I am finished with the Spring quarter. I will continue to volunteer with FNW over the summer with program planning and conducting qualitative data analysis from student interviews.
My internship experience helps me develop teamwork skills to support the community in overcoming barriers due to the coronavirus. These experiences will help me pursue my goal of enrolling in a graduate social work program.
I struggled with the coronavirus because I lost my job, home, and connection with friends, but I am trying to cope with the pandemic by focusing on my career goals and spending time with my family. I am glad to share my story, and I hope it will provide courage for other students facing big hurdles during this challenging time.