When Robert Hand, a family and consumer sciences teacher at Mount Vernon High School, heard that he was named the 2019 Washington State Teacher of the Year, his first reaction was shock. But he quickly became excited as he thought about the opportunities ahead to learn, and to "make a difference in our state in the field of education."
Within his classroom, Hand focuses on getting to know his students individually and supporting them to find and prepare for a path after high school that fits their interests and goals.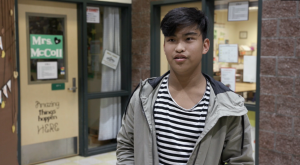 Chatham Rochelle is a senior in Hand's Careers in Education class. He wants to become a fourth grade teacher. Rochelle said Hand has helped him prepare for the future by getting to know him as an individual.
Careers in Education is just one of the classes that Hand teaches. Other family and consumer sciences classes that he leads include Beginning Foods, Nutrition, Life After High School, and Leadership. He also has advised the Family, Career, and Community Leaders of America (FCCLA) and the Social Justice Club.
The aim of his classes is to teach "real life, applicable skills," as well as connect these courses to future careers and support interested students in preparing for those pathways.
Hand talks with students about college, internships, apprenticeships, and other postsecondary options that would best fit students' interests and goals.
Former students of Hand's also laud him for getting to know them and providing support in determining a career pathway that fits.