Several years ago, when expanded learning opportunities (ELO) arrived for the first time at elementary school sites in Tacoma, students could choose from a variety of fun afterschool programs. At Edison Elementary School, activities included drama, creative movement and world drumming provided by Tacoma Arts Live, sketch club with the Tacoma Arts Museum, the STEM-based Snapology program, and a nature opportunity offered by the Tacoma Tree Foundation that involved growing plants in the school's community garden. At the end of the sessions, parents attended an event that celebrated what their students learned.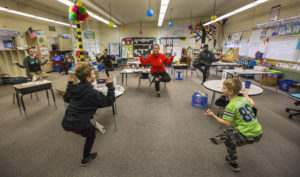 Parents expressed appreciation that their children were in a safe place, engaging in quality afterschool learning at a convenient location: their school. The activities were free for families from low-income backgrounds. At Edison, building strong and trusting relationships with families and school staff were key to the program's success.
Tacoma Arts Live staff member Tiffany Lemmon served as site director for Edison's ELO programs last year. "Families are putting their trust in us to provide quality programming for their kids after-school.  They appreciated the quality of the art and STEM-based programming," Lemmon said. "Students could pick and choose what they wanted to participate in based on their needs and interests."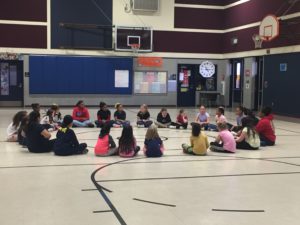 Afterschool learning sites like Edison have since evolved to meet community needs during the pandemic. When schools closed due to COVID-19, Tacoma's community of youth service providers, including Boys and Girls Club, Metro Parks, the YMCA, and Greentrike mobilized to provide emergency day camps. They provided care and activities free of charge for 200 students whose guardians were essential workers such as healthcare and grocery store workers.
The Whole Child Partnership supported those camps. Tacoma Public Schools provided school sites and support staff. Lemmon and other ELO coordinators administered family requests for the day camps, which were held for three months across four sites.
Safety measures included frequent handwashing and taking students' temperatures each day. Students gave positive feedback about having a break in their day to participate in activities like Tacoma Arts Live's world drumming, the MIP mentoring program provided by the Tacoma Urban League, and a Korean language and culture program from the Asia Pacific Cultural Center.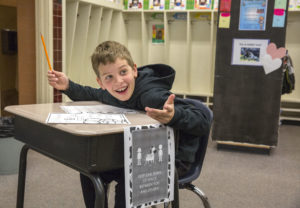 After a successful pivot, staff involved in Tacoma's ELO space are brainstorming ways to keep students involved and learning while staying safe this summer and fall. High-quality expanded learning opportunities can help increase students' engagement in their learning, improve grades and test scores, and lower dropout rates, according to School's Out Washington. This summer, about 700 students engaged with summer learning and enrichment activities provided by the Whole Child Initiative.
"The day camps gave us a peek at how to plan for the future and reengage young people," said Fahren Johnson, senior program officer at Greater Tacoma Community Foundation.  "We work to bring young people to the table to let us know what activities they need, whether it's art kits or book clubs."
Emphasis on social and emotional learning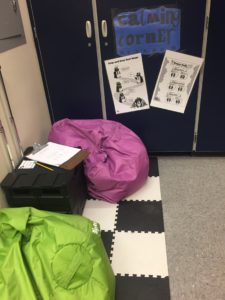 Edison's site is part of the Tacoma Whole Child Partnership, a community-wide effort to ensure every child is healthy, safe, engaged, supported, and challenged. Greater Tacoma Community Foundation, Tacoma Public Schools, and numerous community partners are working together to expand this partnership by providing aligned, equitable, high quality social, emotional, and academic development opportunities to students in and out of school.
"Parents are very appreciative that the programs tap into young people's purpose, gifts, and talents," said Johnson, who grew up attending afterschool programs in Tacoma that helped pique her interest in art, process trauma, and succeed academically. "Students are guided by caring adults that help them journey to how they want to become someday. The expanded learning opportunities space is a very necessary sector that has huge implications for how young people grow and develop into who they are as adults."
Before the pandemic, Edison and the other 11 elementary schools in the expanded learning partnership implemented several SEL components. Students had the opportunity to name their emotions and check in with adults during a practice called "zones of regulation." This allowed them to reset after the events of the school day. Students could go to a "calming corner" if they needed to manage their emotions privately. They also participated in a community circle in which they checked in with their provider and voiced their opinions. These practices helped foster a safe place for students, Lemmon said.
"Using SEL practices with students helps them identify and manage their feelings, and be heard by trusted adults," Lemmon said.
Preparing for virtual learning in the fall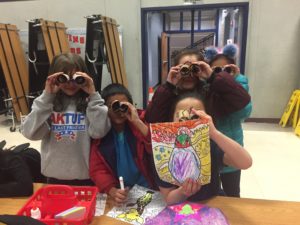 This fall will likely be challenging for families, with many schools returning remotely or in a hybrid.
Expanded Learning Opportunities will be virtual, with a mix of live and pre-recorded programs – such as arts, mentoring, recreation, and STEM – available online.
"We are going to have to re-envision how we engage and support our young people," Johnson said. "There is not only learning loss, but trauma from racism, COVID-19, and losing family members."
GTCF is developing a platform to provide the programming. This will involve training providers, orienting families, and piloting virtual programming with students. The learning opportunities will continue to infuse SEL and equity work.
"We need to make sure community resources are supporting young people by being very nimble," Johnson said. "We know it's all around racial equity, safety, and health and making sure our families live through this. Lots of innovation and creativity has to happen and will happen. These amazing expanded learning providers are equipping young people with tools they need to navigate life."