2019 #PlanYourPathWA Student Video Contest
For the 2020 #PlanYourPathWA contest page, click here.
Meet The 2019 Winners!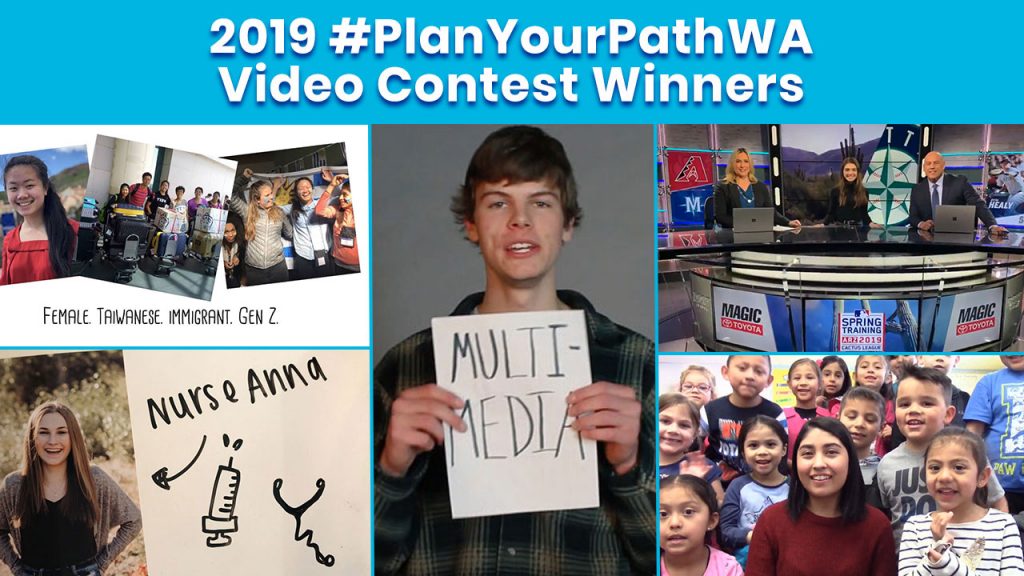 Thank you to all the amazingly talented and diligent students from around the state who entered the 2019 #PlanYourPathWA Student Video Contest. This was the fourth year Ready Washington has organized a student video contest, and the selection process this year may have been the most difficult yet. The videos keep getting better each year!

The goal of this contest was to elevate students' voices and IGNITE students' thinking and conversations about their education and career goals. Based on the quality and quantity of the videos we received, we achieved our goal! This year's winners plan to pursue careers in video production, broadcasting, nursing, teaching, and even social entrepreneurship! And they all are taking steps today to prepare them for their future.
---
Congratulations to these five students who will each receive a $500 scholarship!
1. Ethan Berkey, Senior, Kamiakin High School (Kennewick)
2. Anna Komstadius, Senior, West Valley High School (Yakima)
3. Ashley Lin, Sophomore, Union High School (Vancouver)
4. Annie Hager, Senior, Mount Si High School (Snoqualmie)
5. Silvia Esparza, Senior, Quincy High School
---
If you have any questions or feedback about the contest, please email info@readywa.org.
---
Past Student Winners
To see past winners of the Ready Washington student voices contests, visit readywa.org/optinwa.
Ready WA Resources
The High School and Beyond Plan can help students explore and plan an education-to-career pathway that's right for them. Check out all our information and resources about the Plan at readywa.org/beyond.