What information is most important for parents to know to support their students in science classes? This is a question that Ready Washington posed to a group of Spanish-speaking middle school parents in the Northshore School District.
Over the course of two meetings, parent leaders learned more about Washington State's Science Learning Standards and shaped the content for a new fact sheet for families that will be developed in Spanish and available in multiple languages.
The goal of the fact sheet is to equip parents with enough information about science education to open or continue dialog between parents and teachers.
"Parents need to be informed and involved," the group agreed. "As parents, we should learn about the basics of the educational standards."
During the first session, at the end of October, the group of about a dozen parents engaged in shared learning about the science standards and then worked in small groups to identify key topics of information to include in the fact sheet.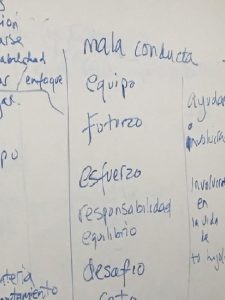 Parents agreed that it is important for the new tool to highlight importance subjects that students need to learn for their futures, including science and math, and to encourage families to pay attention to assessment scores. The group also worked on questions that other parents can ask of teachers to get more information.
In the second session, in early November, the group came together to refine the wording of the information on the fact sheet and determine key words that would most inspire other parents to take action and talk with teachers — such as "get involved" and "participate." Finally the group reviewed images that would be most eye-catching to include.
As the dynamic discussion wrapped up, parents underscored their hope that families will engage with their students' schools.
One parent said, "In the past, I didn't get involved, and I see the difference now."
The new fact sheet will be released before the end of the year.
---
Ready WA is deeply grateful to all of the parents who engaged with us in this project! Their expertise is invaluable to us. Thank you also to the Northshore School District, the Natural Leaders program, Northshore Middle School, and to Alma Villegas Consulting for partnership on this project.