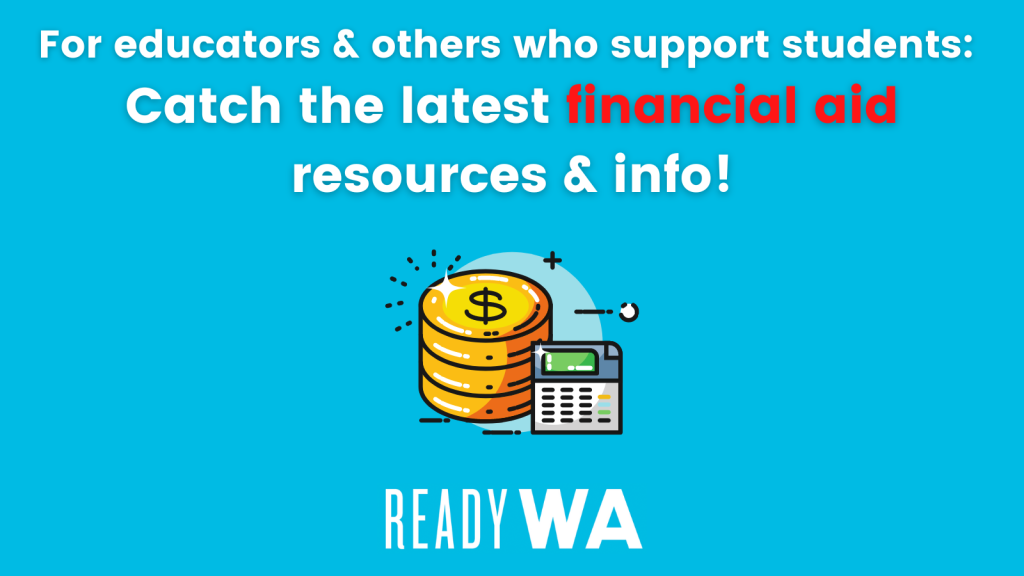 The financial aid application window opens Oct. 1. What does that mean? Why is it important for students to complete financial aid applications? And where can they get help if they need it?
Washington state has many resources for students, families, educators, and community organizations to support students in completing financial aid applications and accessing money – such as the Washington College Grant – to enroll in and complete education after high school.
Below is a summary of information about Financial Aid Advising Day and several opportunities to get all the information you need – whether you are a student or you support young people – for successful financial aid application completion. Thank you to the Washington Student Achievement Council for sharing with us!
What are Financial Aid Advising Days?
A financial aid advising day is an opportunity to provide every high school senior and their family with key resources and knowledge for completing the financial aid application process. A law passed a few years ago (ESSB 6141) calls for school districts with a high school to provide both a financial aid advising day and notification of financial aid opportunities at the beginning of each school year to parents and guardians of any student entering 12th grade.
The notification must include information regarding:
The eligibility requirements of the Washington College Grant.
Information about resources, including the CSS profile (additional application that some institutions require for financial aid) and new financial aid calculator.
Any community resources available to assist parents and guardians in understanding the requirements of and how to complete the free application for federal student aid (FAFSA) and the Washington application for state financial aid (WASFA).
The full requirements of the financial aid advising day. For more information, see the OSPI bulletin.
What is the 12th Year Campaign?
The 12th Year Campaign boosts college and financial aid application rates in Washington by helping those working with high school seniors and their families complete applications for college admissions and financial aid. Schools that partner with the 12th Year Campaign receive free training, printed materials, and other resources designed to help schools and partners host a successful financial aid advising day.
Upcoming Financial Aid Trainings for Practitioners
Financial Aid Basics 9/29/22 10-11am – In this session, participants will learn the basics of financial aid, including federal and state aid programs such as grants, scholarships, work study and loans. The session will also cover when and where to apply for financial aid.
Financial aid navigation 10/6/22 10am-12pm – In this session, participants will learn about the financial aid process and how to help others navigate applying for financial aid. The session will also cover how to apply for postsecondary funding with the FAFSA and the WASFA, as well as common challenges, and errors, and next steps.
12th Year Campaign Events and Support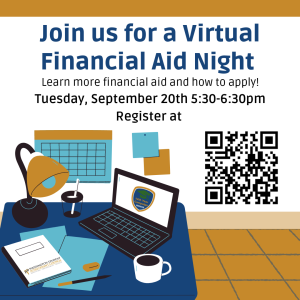 WSAC Wednesdays for Practitioners– The first Wednesday of each month from 10-11am, WSAC offers dedicated time for practitioners to answer questions and provide updates on financial aid, the College Bound Scholarship, and Otterbot.
Weekly Financial Aid Open Q&A Sessions for Practitioners –  Are you supporting students with financial aid?  Join WSAC every Tuesday from 10-11am, during the months of October and November as they answer your financial aid questions.
Financial Aid Advising Day Planning Sessions – WSAC will provide Financial Aid Advising Day Planning Sessions to help with the development of strategies and assessment resources for K-12 and community organization staff.
Parent & Caregiver Financial Aid Information Night – September 27th 5:30-6:30pm. This event is specifically for parents and caregivers supporting their student in the financial aid process. In this session we will discuss the types of financial aid, how to apply, and parent's role in the application process. (Sessions in Spanish will be offered in early 2023.)
Financial Aid Information Session – September 20th 5:30-6:30. Students and families can join WSAC for a live, online information session to learn about financial aid. The session will cover federal and Washington State financial aid programs including grants, scholarships, work study and loans. You will also learn about when to apply, how to apply, and where you can get help with the process.
Financial Aid Completion Events – Do your students need assistance filing for financial aid or applying for college? The 12th Year Campaign is here to help! This fall the campaign is partnering with high schools, colleges, and community organizations to provide free virtual events to help you take the first steps to funding their education after high school.