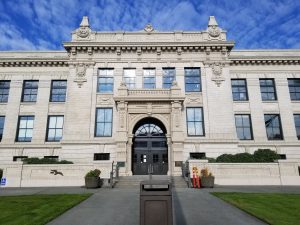 At Everett High School, the High School and Beyond Planning (HSBP) process isn't just a task that gets checked off a list. It's a way for counselors and teachers to have meaningful conversations with students and provide support as they work toward their post-high school goals.
Before the pandemic, the counseling department had already forged a strong partnership with the English department. This valuable collaboration enables counselors to provide HSBP lessons during English classes, and English teachers to share information with their students about graduation requirements. Pre-pandemic, counselors had also started making lessons virtual on the Naviance platform, which is the district's chosen software for delivering counseling lessons, completing college applications, and transcript requests. Counselors had support from a full-time HSBP facilitator who oversees the Naviance platform and develops lessons.
When schools shifted to remote learning, some lessons were already accessible online for students. Now, all lessons are available online. This year, counselors are planning to continue leading in-class lessons around the High School and Beyond Plan during English classes in grades 9-12 through Naviance.
This means high school students at Everett will begin their HSBP process as usual – with a career interest inventory. After starting their High School and Beyond Plan, each high school student meets with a counselor through English class for a one-on-one registration meeting, happening virtually this year. These sessions help set students up for a successful next year of high school.
"During these meetings, registration isn't just a task that has to get done," said Gretchen Stiger, school counselor at Everett Public Schools. "There are some real conversations going on. It's made the process more authentic."
Connecting with students about their goals
Based on the post-high school education and career goals students have indicated in their Naviance interest surveys, such as computer science or healthcare, counselors recommend specific classes and individualized pathways. For example, Everett High School has a medical program that provides students clinic experience and allows them to receive a certificate at the end of the program that is recognized by workplaces and college programs. In addition, counselors promote dual credit classes, such as AP and College in the High School, to help students save time and money.
The planning process continues in high school. Counselors can drop into online classrooms when needed to meet with students about college applications. One-on-one conversations allow counselors to follow up with students as they take high school courses that relate to their goals.
"One-on-one conversations with students give us an opportunity to forge that relationship," Stiger said. "If we know what students' pathways and interests are, it's another way for us to get to know them. It's all about the relationship with students."
Everett Public Schools also is working to improve racial equity, an effort that began with listening to students, Gretchen said. Part of counselors' work includes promoting historically black colleges and universities (HBCUs), educating themselves, and having difficult internal conversations.
Exploring colleges and careers from home
This year, Everett School District is hosting a completely virtual HSBP week with financial aid information, college visits, and more. The district recently held an online session for families about important timelines for seniors to follow that 100 families attended. Previously, about 10-15 families attended similar in-person sessions. The district will continue to hold virtual events for seniors every month.
"One good thing is that people feel more comfortable logging into the computer," Stiger said. "We might get a better turnout this year. We're excited to see. Teachers are saying that kids are realizing they have more access and that they can do virtual college tours."
College Application Day and FAFSA/WASFA events will also be held virtually, with breakout rooms available to walk families through the financial aid application process and allow families to communicate with interpreters.
Social emotional support for students and staff
Counselors continue to check in weekly with students who need regular support and are available within an hour for students who want to make an appointment.
"We've set up systems where students can get a hold of us whenever they want," Stiger said. "We're able to respond pretty much as fast as we were responding before the pandemic. There is always someone on call."
In addition to working with students, counselors are providing support for district staff members through sharing resources in social emotional learning breakout sessions. The sessions are meant to help staff share ideas and process the pandemic's impact on their everyday lives, from tech issues to adjusting to school buildings without students.
"They learn about cognitive behavioral therapy, the grieving process, and the importance of letting go and having grace," Stiger said. "If adults are okay, then their students are going to be okay."
Stiger's advice for other counselors: Give yourself grace, take care of yourself, and find something that brings you peace. This could include taking a walk, doing yoga, eating well, and going outside.
"As counselors, we take on a lot on," Stiger said. "Finding the thing that brings you joy during this time is important."
Key takeaways
Everett High School's counseling department formed a partnership with the English department. Counselors provide HSBP lessons during English classes, and English teachers share information with their students about graduation requirements.

All High School and Beyond Plan lessons are available online for students through Naviance.

Online sessions for families of high school seniors have reached significantly more families than previous in-person sessions.

High School and Beyond Plan week will be virtual this year, with financial aid information, college visits, and more. College Application Day, FAFSA/WASFA events, and more sessions for seniors will be held virtually as well.

Everett counseling staff provides social emotional support for both students and staff members.