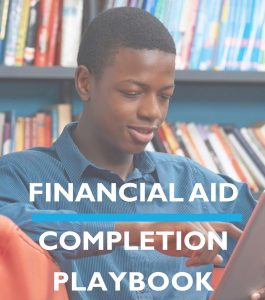 Schools and community partners have had to get creative throughout the pandemic to continue supporting students' and families' needs for learning and other resources. One area where creativity is blossoming: Financial Aid Advising Day, which is meant to provide all high school seniors with the knowledge to apply for financial aid that can reduce costs associated with education and training after high school.
Across the state, schools, STEM Networks, and community-based organizations are working together to offer individualized and group support to enable students to complete their financial aid application, the FAFSA or WASFA. Completing this application is the first step to accessing most sources of financial aid, including the Washington College Grant, a need-based grant that does not need to be repaid. An eligible student from a family of four making around $56,000 or less per year would receive a full award. Partial grants are available for families making up to the state's median family income, around $102,000 per year.
Increasingly, the job openings in Washington state are requiring a credential, such as a degree, apprenticeship, or certificate. National research shows that 90% of students who complete a financial aid application attend college and that the main reason students do not complete one is they think it's too complex or that they are not eligible for aid. Financial aid application completion is down during the pandemic – nationally, the high school class of 2021 completed 4.8% fewer FAFSA forms than the previous high school class.
That makes Financial Aid Advising Day (FAAD) – which also can include a series of events and meetings as needed – all the more important. These events help break down barriers, large and small, that many students and families face in completing the application, from starting on a daunting process and getting a federal student aid identification (FSA ID), to accessing language supports. The Washington Student Achievement Council's (WSAC) 12th Year Campaign is a one-stop support for districts and schools as they look for resources to implement Financial Aid Advising Day.
Keep reading and check out the new Financial Aid Completion Playbook developed by regional STEM Networks in collaboration with state agencies and partners to learn how a few partnerships across the state – in Yakima, the Kitsap and Olympic Peninsulas, and Kent – are leveraging community strengths and resources to boost the rate at which their students are completing financial aid applications, even as much of life remains virtual.
Yakima
Partnerships, data, and ongoing supports are a few of the keys to successfully increasing financial aid application completion rates in the Yakima region.
The South Central Washington STEM Network and the College Success Foundation (CSF) work closely with area districts on systematic approaches to connecting students with the right supports to get the forms completed.
Districts that have made the greatest gains are using data to drive their efforts, said Mark Cheney, co-director of the South Central Washington STEM Network. The WSAC FAFSA Completion portal is a critical tool for districts to see how they're progressing in supporting students to finish financial aid applications. Cheney's advice to schools and districts: start using the data that are available from the portal and put in place a system to ensure people who need to see and use it have access to it, whether that's career guidance counselors or other school staff and administrators. Then, start supporting students.
"It takes a targeted approach," Cheney said.
Additionally, places that are driving up completion rates are offering a variety of ways for students and families to get information and support. A big virtual event can be an important way to offer general information – and can help students and families absorb context about why the FAFSA or WASFA are so important – but individual guidance is often the ticket to completion.
"It's not a one and done," said Carol Garza, programs director for CSF in Yakima. "A lot of students don't even know what to ask. They want to be in the room with others to hear what others are asking. Getting on the computer to start their form, and then having an adult as a safety net to ask questions is really valuable.
"Students need to see what this leads to, including understanding grants and scholarships," Garza said. "We need to connect the dots of why they're doing this."
One other successful strategy is leveraging students' existing relationships with coaches, counselors, and other school staff – the "kid magnets" who serve as a trusted adult for many students. "Having that caring adult that they know as a part of the process – students feel comfortable," Cheney said.
While the state requires that districts complete a FAAD event by Dec. 1, Garza noted the deadline should not mark the end of schools' support for FAFSA/WASFA completion. She and Cheney have noticed that parents and families sometimes engage more in late winter, when high school graduation starts to come into view and students feel the pressure of deciding what comes next. The team is planning programming in the future to ramp up for that time, to meet families' needs.
As of mid-November, the state FAFSA completion rate was 17.5%. Several districts in the South Central region were already reporting a higher completion rate, including Granger (29.4%), Naches Valley (26.4%), Toppenish (24.7%), West Valley (19.5%), and Yakima (18.7%).
To learn more about successes with financial aid form completion in the Yakima region, see case studies one and two in the Financial Aid Completion Playbook.
Kitsap and Olympic Peninsulas
Partnership is also a winning strategy to boost financial aid application completion on the Kitsap and Olympic Peninsulas. Before the pandemic started, community organizations Kitsap Strong and the West Sound STEM Network offered district-specific support to schools around financial aid form completion.
"We have a two-way conversation from the lens of a supportive role," said Kareen Borders, executive director of the West Sound STEM Network. "What is the need of the district, families, and community partners? What does the data say about completion rates? What is the capacity and who is at the table and who is not? Is there something already in existence that we can help grow? An example would be the outstanding work led by our partner, Kitsap Strong."
Connecting with students and families in their communities is critical, said Alyson Rotter, network manager for Graduate Strong, the education-focused network of Kitsap Strong. "This work shouldn't just occur in our schools. Where else are students and families in deep trusted relationships? Often that's in community at faith-based organizations, community centers, libraries, etc."
A few years ago, staff from the regional library suggested the idea that all teen services librarians be trained with information about financial aid completion, Rotter said. That idea became a Financial Aid Navigator program that has grown – if virtually – even during the pandemic.
There are now two trainings a year to create more community-based Financial Aid Navigators, who can be a trusted voice that students and families can rely on for financial aid completion support. Navigators are often available to support school-based events as well as community-based events, providing one-on-one support as students and families work their way through the application process.
Rotter noted that the project is still getting its legs given the need to pivot toward virtual support because of the pandemic, but early evidence indicated successes as Kitsap schools did see a jump in completion rates in the fall of 2019 after the Navigator effort launched and provided in-person support at school events.
While it can be challenging to establish a causal connection between programmatic changes and completion rates, using available data sources, such as the WSAC completion portal and leveraging data support from Washington STEM, offers a critical view into whether supportive efforts are moving in the right direction, Borders said. For example, schools that held in-class financial aid completion events on the Olympic Peninsula, with support from partners, saw financial aid completion rates higher than statewide and regional averages when compared to 2020.
Along with training community navigators who are available to support students with financial aid completion both within and outside of school events, districts are using a mix of strategies this year, Rotter said. For example, some districts are holding in person events during school hours for students with targeted one-on-one support, hosting more general virtual events in the evenings for, and designing unique events focused on specific tasks of the application process, like creating FSA IDs.
As the Kitsap and Olympic regions continue to further develop financial aid completion supports, Borders and Rotter both emphasized the importance of working with communities to develop successful strategies, not imposing outside strategies in a one-size-fits-all model, and providing comprehensive support via partnerships.
"Let me listen, let me hear," Borders said. "What are ways we can co-create systems and systems change to remove barriers?"
To learn more about successes with financial aid form completion in the Kitsap and Olympic Peninsulas, see case studies three and five in the Financial Aid Completion Playbook.
Kent
The Kent School District is also offering a variety of opportunities for students to engage with FAFSA/WASFA completion supports, said Elly Mata, College Success Foundation program manager for Seattle/Kent.
Opportunities range from virtual events with basic financial aid information that include Spanish interpretation, as well as opportunities during advisory periods for seniors to work on their forms with one-on-one help available.
Some schools are offering in-person events for families throughout the month of November. Kentridge High School partnered with Green River College on a virtual financial aid night. Staff from the College Success Foundation are offering support during events, as well, underscoring the value of collaboration between districts and community organizations.
Kent's FAFSA completion rate as of early November was slightly lower than the state average (15.3 % compared to 16.1% for the state). COVID-19 protocols, which vary by school district and site, still present challenges for in-person FAFSA/WASFA completion events.
Financial Aid Advising Day requirements
School districts must, by December 1 each year, provide a FAAD, or series of days, that include the following opportunities for current seniors:
Information about financial aid sources and applications, including the Washington College Grant and the Free Application for Federal Student Aid (FAFSA), the Washington Application for State Financial Aid (WASFA)and the College Board's CSS Profile.
Assistance with completing the FAFSA or WASFA, as appropriate and whenever possible.
A demonstration of how to use Washington's Financial Aid Calculator.