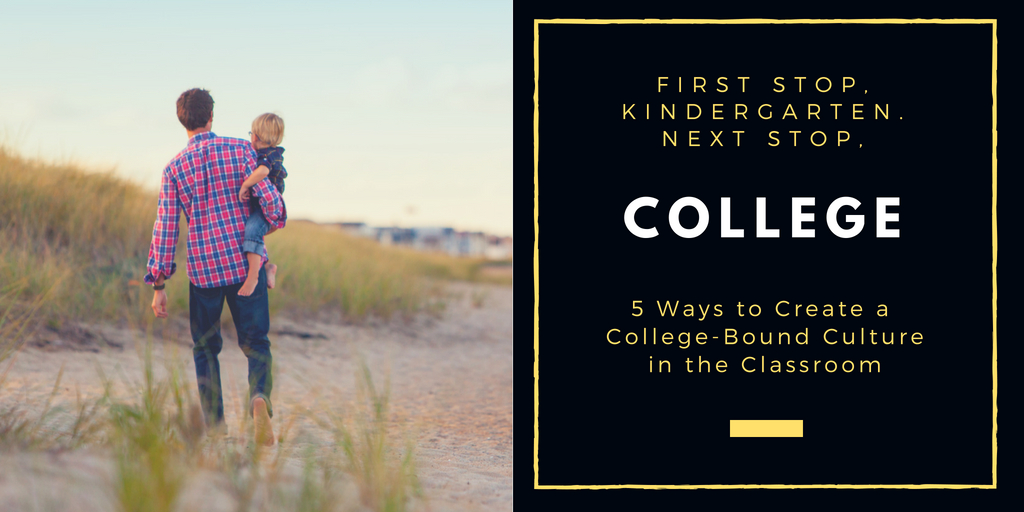 Note: The following blog post was originally published by Jill Woodruff on CORElaborateWA.org. Jill is a Kindergarten teacher at Alpac Elementary School in the Auburn School District. Later this month, Jill will be guest posting for a day on the @ReadyWashington Instagram account. Be sure to follow us for an inside view of a college-bound culture in a Kindergarten classroom.
As parents around the state anxiously (and excitedly) prepare their babies for their first day of kindergarten in a few weeks, this teacher is already thinking 20 years ahead to that lucky college graduation day. Not all of the students in my class will choose to attend college, of course, but it's my job to prepare them for every option they have, even in kindergarten. The implementation of No Excuses University at my school has helped inspire change in the way I talk to students about their futures. I let parents know upfront that talking about college is a critical part of our classroom culture. Of course, college talk fosters an interest in academics and goal-setting, but more than that, it provides our class with a sense of belonging, a group purpose, and an opportunity for families to share their stories.
Below are some ideas for incorporating college talks into your classroom, even if your students are itty bitty like mine!
1. Talk with your students about what they are good at. Constantly ask students this day after day until they are all able to tell you at least ONE thing they feel confident about. "When you become really good at something you love doing, sometimes people give you money to learn more about it," I might say to them, hinting a future scholarship opportunities. My favorite read aloud for this kind of lesson is Unicorn Thinks He's Pretty Great, a story about a simple goat who feels overshadowed by unicorn's flair and pizzazz. Goat has a lot of learning to do about his own unique abilities, and so do our students!
2. Talk with your students about jobs. This one is a no-brainer for us down in early elementary, but older kids need a structured space to talk about this too. Dreaming about what would be fun to be as an adult is the first step (you'll get the classics: cop, firefighter, doctor, vet, etc). Actually identifying problems in our society and talking with kids about who fixes those problems is a great way to take the dreaming about fun jobs to the next level. What are problems you care about fixing as a class? This is a great opportunity for teachers to listen to problems their community is facing. Additionally, kids don't always know how much variance there is within a field. This is a great opportunity to expose them to new career paths. (This lesson occurred during our focus weeks of learning problem–> solution as a story element. The kids made those connections quickly!)
3. Practice being in careers and in college. I think this has totally died off in most grades, and certainly has changed in early elementary. Gone are the days where we have endless minutes for dramatic play centers. But it doesn't have to be that way (nor should it, in my opinion!) Study after study shows that young children need play in order to develop social and language skills to their fullest potential. You certainly have to put your heart (and wallet) into it if you commit to dramatic play, but I'll confess it's something I will never give up. I generally save my career play clothes & accessories for special occasions, but I do love the college dorm center. See the dramatic play center in actionhere in this link! You'll need:
Old graduation robes and caps (I luckily have all of mine saved from 3 graduations and my husband's too! A lot of times friends are willing to donate their gear as well).
Picture encyclopedias (I have the kids copy words they like as "college homework").
Office supplies, like lined paper, pencils, fancy pens ("the kinds that grown ups use!"), and envelopes (to send letters home the old fashioned way)
Backpacks, old technology, blankets, pillows, college paraphernalia (for sleeping after all that studying)
Some kitchen toys for an extra kick! (I bring in some Ramen packets and let them pretend!)
For older grades, readers' theaters and creative writing assignments might be the way to go. A third grader may have outgrown putting on costumes and props in front of their friends, but they can always benefit from a point of view writing task!
4. Bring in members of the community to talk about their experiences with work and college alike. I sometimes ask select parents to come in and tell the kids about what they while kids are at school. Whether parents have gone to college or not is not relevant– the kids will benefit from hearing real members of the community come in and share their experiences. The most popular parent talk we had was a mom who worked at Walmart– my kids were so impressed that someone they knew worked at a store they loved so much. They had a million questions. We also asked fire fighters, police officers, and various members of the zoo community to come and share their stories too. If you can ask any of these presenters to bring in college gear they still have, it's a great way to introduce a variety of school choices to students.
5. Create pathway visuals for kids and keep them up all year. Let it become a talking piece for goal-setting and bigger picture thinking. I take a picture of our anchor chart and post it to ClassDojo so parents can make their own at home if they'd like to have similar conversations. (This is a great lesson to do using GLAD strategies so that kids are using print concepts to put the poster together. When kids tell me what they'd like to be throughout the year, we often look at the poster and see if their path has changed at all!
I loved high school and college and am so excited to share those experiences with my students. They may be little, but their capacities to create lifelong habits starts now. I have a million more ideas to share, but you'll have to tune in to my Instagram Takeover with @ReadyWashington on September 19th to hear more. I'll be providing you with a sneak peek of what I do in my classroom to help prepare little ones for college, and I would love your ideas and input as well! Comment below or send me a message on the 19th by following @ReadyWashington and my personal Instagram page, @LlamaLovesKindergarten.