The future is bright for Washington students, who have big dreams for their futures. High school seniors graduating this year are pursuing paths in many high-demand fields, from nursing and medicine to wireless security and computer engineering. Opportunity awaits: in the coming years, Washington employers are expected to create 373,000 net new jobs, many of which will require or be filled by people who complete a post-high school credential, such as a degree, apprenticeship, or certificate.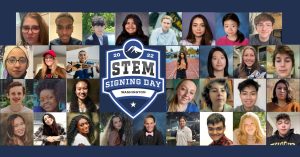 Forty-nine Washington state students who are planning to pursue STEM credentials recently received special honors from Boeing during Washington State STEM Signing Day on May 19. The annual event recognizes students who are committing to study a science, technology, engineering or math (STEM) discipline after high school.
Just like college signing days for athletes, the next generation of STEM leaders signed a letter of intent to pursue a two- or four-year credential in a STEM field. The Washington state high school seniors were chosen based on their accomplishments and involvement in STEM education. Leaders in education, business, and communities around the state joined Boeing in recognizing these students' hard work and drive for success in the virtual ceremony.
Why STEM?
Students are excited about their futures in STEM for many reasons.
"I'm excited that I'll be a part of a community that brings positive change to the world by solving the issues we face today," says Mohamed Ilyas, a senior at Raisbeck-Aviation High School who plans to study biology.
Engaging with systems security excites Aric Gaffke, a second-year student at the Pierce County Skills Center who plans to attend Clover Park Technical College in the fall. "I'm also intrigued about wireless security and how it will compare to physical security as wireless because more prevalent in our modern society," Aric says.
"What I'm most excited about my future in STEM is the goals I'm planning to achieve and what I could do with the information I will learn," says Isabel Chavarin, a senior at Fife High School who plans to study chemical engineering at Washington State University.
Boeing leaders applauded the students' hard work and aspirations to careers in STEM fields.
"Celebrating the next generation of STEM leaders is inspiring and hopeful," said Gina Breukelman, senior manager, Northwest Region, Boeing Global Engagement. "You have worked so hard to explore your interests and embark on a journey toward a STEM career. Thank you for your passion and ingenuity. Our communities and future are brighter because of you."
Washington's honorees were among more than 600 students honored at similar events nationwide this spring. These Washington students plan to study many STEM subjects, including air traffic control, astrophysics, chemical engineering, computer science, medicine, neuroscience, statistics and more. They plan to attend colleges and universities in Washington and beyond, including the University of Washington, Washington State University, Lower Columbia College, Pacific Lutheran University, and the Massachusetts Institute of Technology.
WATCH: Washington 2022 STEM Signing Day virtual event
WASHINGTON STUDENTS HONORED:
| | | |
| --- | --- | --- |
| Sanjida | Affrin | Franklin High School |
| Ahmad | Al Ghifari | Kent-Meridian High School |
| Maram | Bouhdache | CHOICE Academy |
| Isabel | Chavarin | Fife High School |
| Ian | Clark | Bellevue High School |
| Kaitlynn | Cross | Summit Virtual Academy |
| Austin | Dillinger | Eisenhower High School |
| Zoe | Durand | White River High School |
| Megan | Fownes | Kamiak High School |
| Aric | Gaffke | Challenger Secondary School |
| Gavin | Giesbrecht | Central Kitsap High School |
| Marlene | Gonzalez Moya | Wenatchee High School |
| Bebe simone | Hart | Timberline High School |
| Diana | Hernandez | Royal High School |
| Kreslyn | Hinds | Squalicum High School |
| Michael | Ibrahim | North Creek High School |
| Mohamed | Ilyas | Raisbeck Aviation High School |
| Rachel | Jones | Lynden High School |
| Phoenix | Joraa | Klahowya Secondary |
| Shirley | Kaikai | Kamiak High School |
| Ashley | Kao | Sammamish High School |
| Emily | Kao | Sammamish High School |
| Devon | Leigh | Joel E. Ferris High School​ |
| Zachary | Mahar | Olympia High School |
| Kha | Ngo | R A Long High School |
| Anna | Nguyen | International Community School |
| Johlesa | Orm | Lindbergh Senior High School |
| Alex | Philbrick | Fife High School |
| Milan | Rahmani | Ballard High School |
| Dipsika | Rasaily | Auburn Mountainview High School |
| Alyssa | Retchless | Bonney Lake High School |
| Stella | Rillie | Science and Math Institute |
| Siena | Roberts | Lewis and Clark High School |
| Caleb | Roberts | Kamiak High School |
| Jeselle | Romero | Olympia High School |
| Thalisa | Saldivar | Toppenish High School |
| Maurisio | Sanchez | AC Davis High School |
| Kameron | Scott | Stanwood High School​ |
| Olivia | Snyder | Mt. Spokane High School |
| Arshpreet | Tagore | Henry M Jackson High School |
| Mario | Trujillo | Toppenish High School |
| Alyssa | Underwood | Central Valley High School​ |
| Sirjan | Uppal | North Creek High School |
| Hannah | Van Mantgem | Blaine High School (Washington) |
| Annette | Van Niekerk | Sehome High School |
| Tori | Vandenbeld | Woodinville High School |
| salma | wairimu | Curtis Senior High |
| Grace | Wang | Juanita High School |
| Kathleen | Wilson | Rochester High School |