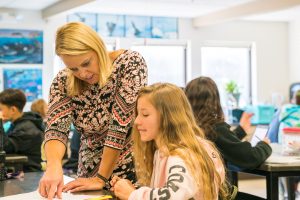 "When students see relevance, they step up and engage." That is one of the key reasons that Principal Kirsten Rue cites for ensuring each of her sixth grade students completes a career interest inventory.
The interest inventories are part of Chinook Middle School's Preparation for Success class that all sixth graders take their first semester of middle school. It "hooks students in," Rue said, and it launches their High School and Beyond Plan (HSBP) process, which continues throughout high school to support students in making a plan for post-high school education and careers.
The class has been up and running at this North Thurston school for several years. It started when sixth grade moved from the elementary to middle school level, as students moved from having one teacher each day to six – a big change. It was a teacher-driven effort to ensure the transition to middle school is successful. Foundational support for sixth graders is part of a larger, mission-driven effort to build a college-going culture at a school that emphasizes critical thinking, responsibility, and respect.
Robin Bailey teaches the Preparation for Success class, and her enthusiasm for it is palpable: "It's a blast!"
"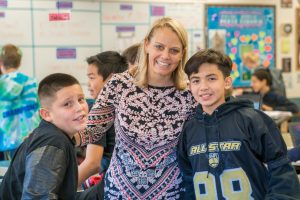 The class has the power to bust them through to the next level of success," Bailey said. "As we plant these little seeds, it raises the ceiling."
Along with the interest inventory, students also learn important organizational skills (such as how to organize homework in a binder and how to use a planner), typing, email etiquette, and notetaking, as well as their learning styles and techniques for studying – all skills that serve them throughout middle and high school and into post-high school education and careers.
The interest inventory itself takes several weeks. Students identify clusters of careers that might suit their current interests, then drill down into specific jobs. They research what the jobs entail, salaries, and education needs, as well as postsecondary institutions that have relevant programs. Then the process gets even more real and relevant – students draft a professional letter to the institution of their choice expressing interest in it and requesting swag. When institutions respond – and they often do – the class celebrates the success.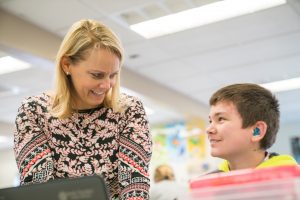 The process is an opportunity for students to "play and dream," Bailey said, adding that she talks with her students about financial aid, as finances are a barrier many students are already thinking about. In fact, the school has a 100 percent sign up rate among students eligible for the College Bound scholarship.
Students certainly aren't committed to the path they choose in sixth grade, Rue said, but showing students a tangible path into their future is critical. "It's okay for students to change their minds. The fact that they're thinking about this in sixth grade is huge."
Results of the effort are clear – among sixth graders, 93 percent are passing all their classes, Rue said. In addition, passing rates for ninth graders who came through Chinook are "trending in the right direction."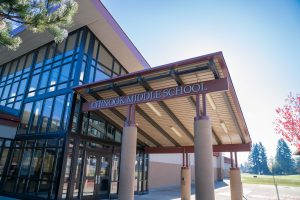 There is room to keep improving the effort. Rue noted that passing rates are falling some for seventh and eighth graders, so the school is continuing to work on supports for students throughout their middle school experience.
One strategy the school has adopted is AVID (or Advancement Via Individual Determination), a proven way of teaching that prepares students for postsecondary education and career. The school also holds college and career Wednesdays, when staff dress up in gear from the schools they attended. And, staff use Smarter Balanced scores to identify the types of supports that each student needs.
Chinook is also working to embed racial equity in its culture and practices. As part of the middle school's improvement plan, educators are focused on supporting Latinx and Black students in math. An annual perception survey for staff, students, and families also identified the need to improve supportive learning environments for Black students, which Rue said is a priority this year. She added that ongoing staff training about implicit bias has been "pivotal."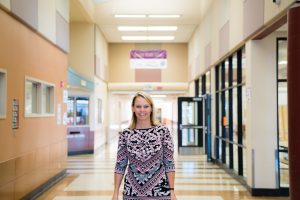 For schools thinking about starting or strengthening a High School and Beyond Planning process, Rue's advice is to take one step at a time and start with the career interest inventory, because it drives up student engagement. Then, invite students to take action with the information – investigate postsecondary options, for example.
"It helps them see that [middle school] is part of the journey toward high school graduation," Rue said, "and to see themselves as college- and career-bound."
***
Thank you to Kirsten Rue and Chinook Middle School for inviting us to visit! We were so pleased to see the school before buildings closed for the year.
Check out Principal Rue's encouragement for eighth grade students here.