Report to Room 143. Bring your SAT or ACT scores and a laptop or smart phone. Fill out a short online application. Sit down for 5-10 minutes with an admission counselor. Boom – you may receive an acceptance letter to become an Eastern Washington Eagle next fall.
There's beauty in how Rogers High School in Puyallup has simplified and streamlined the college admissions process for its high school seniors. We found this out by spending a recent morning observing an "On-The-Spot Admissions" event at Rogers, during which more than two dozen students received good news, an acceptance letter, an EWU pennant, and black and red pom poms.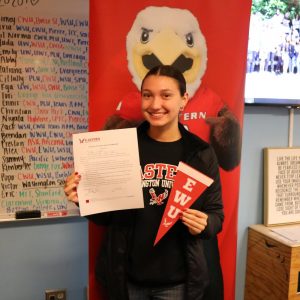 "Some people don't know how to apply to college," said Rogers senior and Running Start student Trinity. Inviting admissions staff from two- and four-year public and private institutions to come to Rogers makes it "easy" and instills confidence in students, she said, particularly for first generation college students. Trinity said the guided, hands-on assistance from AVID teacher Colleen Pancake made her feel "confident and prepared."
Pancake, who was named a Puyallup School District Teacher of the Year in 2017-18, said the idea to invite colleges to Rogers blossomed out of a conversation three years ago with a friend of hers who worked in admissions at Central Washington University.
"After Central came, and it was a success, we thought, 'Why can't we partner with other schools for similar events?'"
Soon after came Eastern, Washington State University, Boise State, Pacific Lutheran, and local two-year colleges like Pierce College, Green River Community College, Highline College, and Clover Park Technical College. A few of the students remarked that the school's approach turned what used to be an intimidating application process into an exciting recruitment exercise. Students felt wanted, and that gave them more confidence as they were planning their path after high school.
At first, the events were only offered to AVID students. But Rogers Principal Jason Smith – who was named 2019 Washington High School Principal of the Year – said the events became so popular, the school decided to open them up to all seniors. Now hundreds of students show up annually at these events and walk away with relief, confidence, and a plan for the future.
On this particular day, 87 seniors signed up for the opportunity to meet with staff from Eastern. Ismael was another one of those seniors. Ismael – who has been an AVID student since 7th grade – wants to study criminal justice and become a police officer.
"Eastern is where I want to be," Ismael said. "It's my top choice."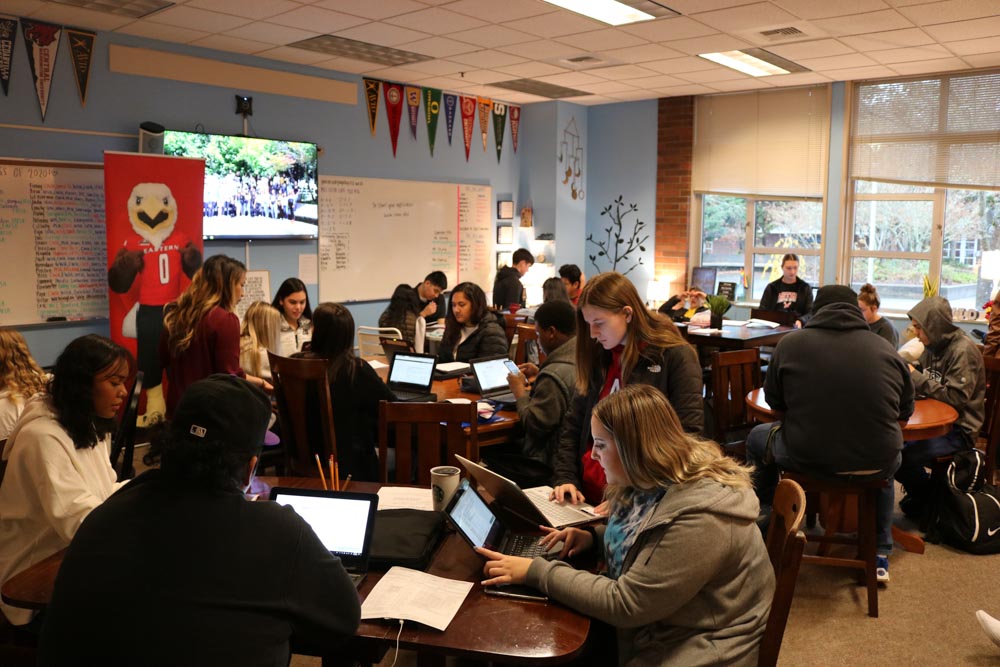 Ismael would be the first in his family to attend college, a significant accomplishment that is not without its challenges. These students face barriers often overlooked by today's education system. Tasks like applying to college, applying for financial aid, and gathering transcripts and test scores are new territory for "first-gen" students and often require personalized and proactive engagement by educators and school staff.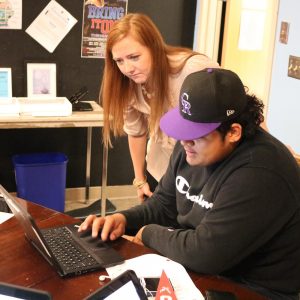 Even applying to colleges can be a considerable financial challenge for students. Most colleges charge a nonrefundable application fee up to $100 (EWU charges $60). The On-The-Spot Admissions provides a fee waiver for students who qualify, eliminating another barrier for many students.
These unique challenges are not lost on Pancake, whose unwavering passion and commitment to supporting students like Ismael are evident immediately upon entering her classroom.
At one point during the admissions event, we sat next to Pancake at her desk and asked her a few questions about her students, the school, and the importance of bringing postsecondary admissions representatives to Rogers. While we talked, a line of students formed near her desk. She then proceeded to alternate between answering our questions and responding to the needs of the students in line.
Many of the students needed help tracking down their transcripts. Pancake jotted down a note and said she would be happy to pull that student's transcript. Other students – like Ismael – needed some personalized assistance with the online application. Pancake was quick to help. She then walked around the room, making sure students' needs were being met. She caught the admissions reps in between interviews and asked how they were doing.
Then she came back to our conversation without skipping a beat. And she did all of this with a smile and a level of enthusiasm that made it clear: Pancake was doing what she loved.
"I can't imagine doing anything else," she said.
"Love kids and teach." That's the theme at Rogers, said Principal Smith. "It's what we do every day – we show up every day for our kids, we love them, we hold them accountable. It's an honor to do what we do. And that's what you saw today with Ms. Pancake. That's what she does every day."
That theme was clearly received by students like Ismael. After completing his online application, gathering his transcripts, and sitting down for a 10-minute conversation with an EWU rep, he received an admissions letter and assurance that his future is full of hope.
"I'm relieved. I'm excited. I can't believe it – I'm going to college!"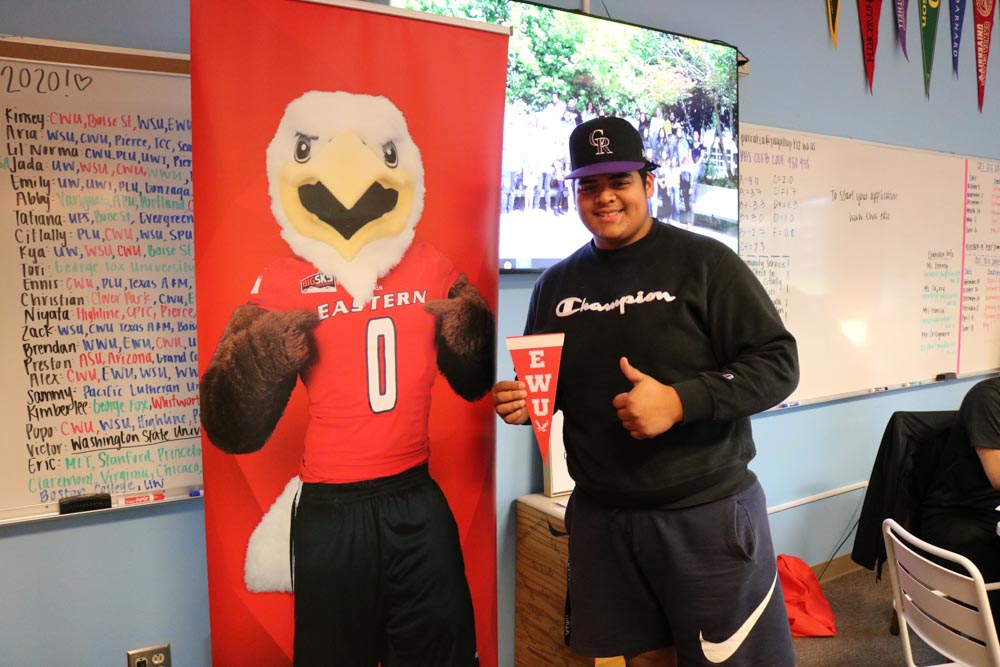 ***
Thank you to Principal Smith, Ms. Pancake, and Rogers High School for inviting us to your school. We appreciate you and all the work you do to prepare students for success after high school. And congrats to all the students who were admitted to Eastern Washington University – we're excited to see what the future has in store for you!