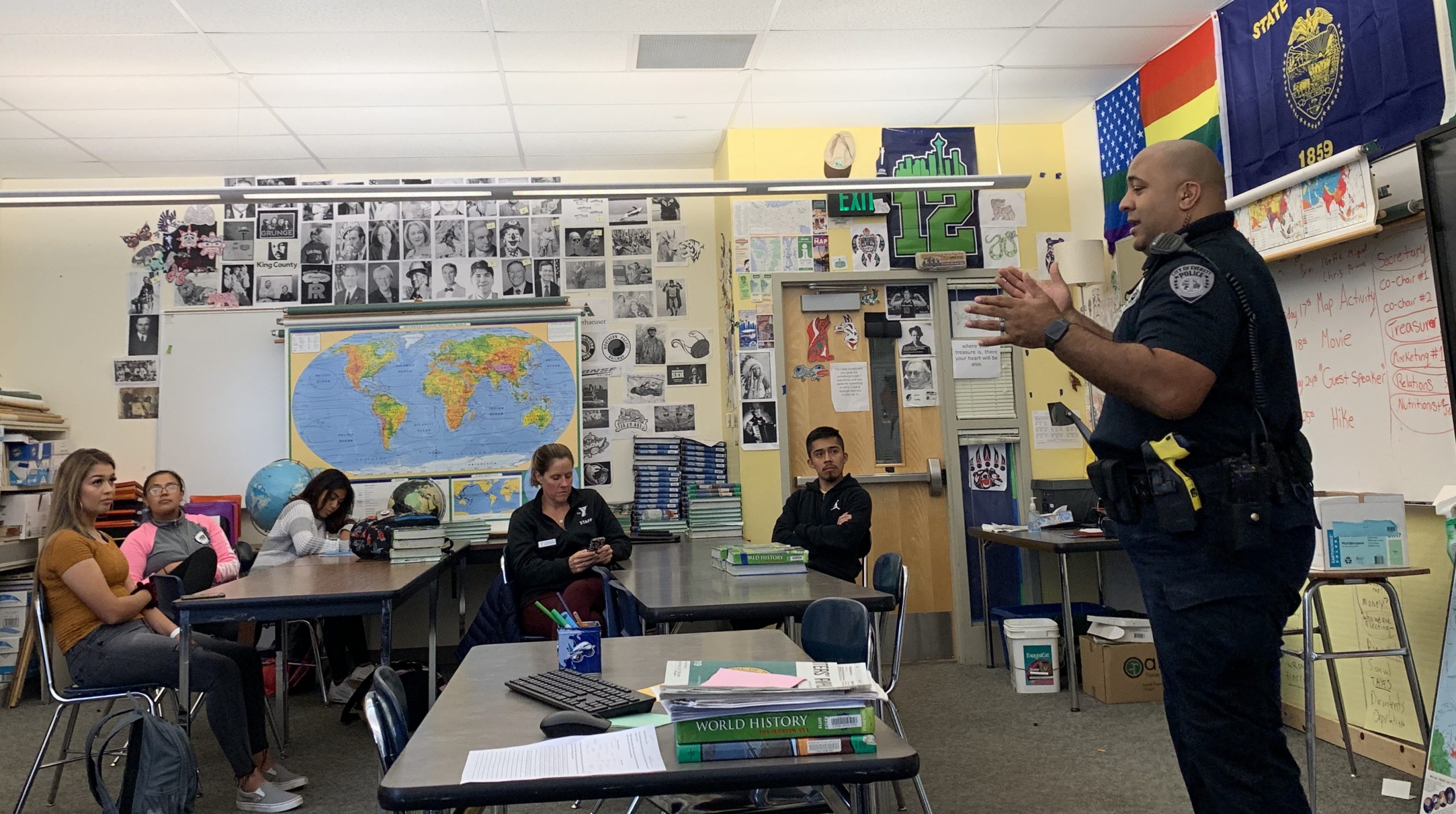 As an aspiring dentist and teacher, respectively, high school seniors Chris and Lisette credit their after-school program with exposing them to career pathways, financial aid options for college, and strong relationships with their peers.
The two seniors at Mariner High School in the Mukilteo School District are leaders in the YMCA My Achievers Program, or MAP. They meet a few times a week after school to hear from local community leaders about their job pathways, visit local colleges, get information about financial aid applications and scholarships, and connect with each other through activities such as hiking.
"It helps first-generation students find their footing," Lisette said, adding that the program encourages she and her peers to consider questions about where they want to go in life.
On a recent Thursday – National Lights On Afterschool Day, which recognizes the important learning and community building that students engage in during afterschool programs – Chris, Lisette, and several of their peers heard from two local leaders – an Everett police officer and a Snohomish County sheriff's officer. Each shared their career pathway, including barriers they faced and how they overcame them, their post-high school education, and what they enjoy about being cops.
"I took this job because I want to help people," Everett police officer Anthony Fletcher said. "What drives you, what interests you?" he asked the students. Fletcher shared that he struggled as a young person, and his supportive high school football coach helped him find purpose and community.
George Burnette, the sheriff's officer, shared that after a long and fulfilling career in law enforcement, he is considering leaving the field to become a teacher. He currently serves as the school resource officer at Mariner and said that most of his job is mentoring and supporting students, which means a lot to him.
Sparking students' thinking about their futures is a key part of MAP, said Ricardo Heredia, Director of Youth Outreach for the YMCA of Snohomish County. He took over the program in September 2017 and focused on connecting with students of color, particularly Latinx students. The speakers and tours he arranges for students usually highlight leaders of color, so students see themselves reflected in positions of leadership.
Heredia grew up undocumented and said the educational system marginalized him. Telling his story to today's students helps him connect with them.
"It doesn't feel like a job," Heredia said of his passion for the work he does.
MAP also operates at two middle schools in the Mukilteo district, and its success depends on many community partnerships, including area businesses and colleges that provide tours to students.
Expanded learning programs like MAP are powerful drivers of engagement and learning for students, said David Beard, policy and advocacy director for School's Out Washington, a backbone organization that supports expanded learning opportunities across the state.
"As we have seen for decades, students furthest from opportunity such as low-income youth or youth of color, enter post-secondary programs at lower rates and make less income than their peers. For example, only 37% of black students in our state have a post-secondary credential compared to 52% of white students. Expanded learning opportunities after school and in the summer, such as MAP, provide more time and support to open up career options and pave a post-high school pathway for students. Expanded learning can be key in getting more Washington youth a degree or credential and a living wage job."
As the two law enforcement officers wrapped up their comments, students asked questions about what their training was like and how much money they make. Fletcher said that, in addition to his policing credential, he earned a degree in economics because he is interested in people's behavior and in math.
"It was just in case I wanted to do something else," he said.
Chris and Lisette said hearing from speakers like Fletcher and Burnette opened their eyes to well-paying careers they hadn't realized they could pursue. After high school graduation, Lisette is considering attending Western Washington University to earn her teaching degree. Chris plans to go to Everett Community College.
Each offered advice to their greater community: "Don't' judge based on the environment you're in or where students come from," Lisette said.
"Reach out to students," Chris said. "They have goals, but they need your help."
---
Thank you to Ricardo, Chris, Lisette, Mariner High School, and School's Out Washington for inviting us to visit!